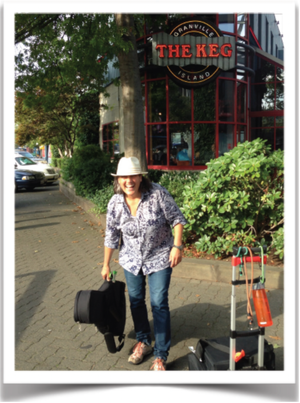 I love Granville Island, so when I decided to purchase an Air North 
flight pass and audition for a Granville Island Busking licence, I was 
keen. It was a perfect summer break from my regular teaching 
practice. Granville Island is famous worldwide as one of the primo 
destinations for buskers. The Granville Island Cultural Society has very 
specific rules and guidelines for all licensed street performers. 
www.giculturalsociety.org Every morning eligible licensed buskers 
draw for the 10 designated outdoor amplified areas, including a few 
choice covered sites. If you were lucky enough, you had first dibs on 
the best money making spots and times. Each site could only be 
played once daily creating a smooth rotation of buskers throughout the 
8 hour day. Quite a treat for visitors to the famous Vancouver market! 
The quality of acts was outstanding. A unique aspect to this gig was 
being outside all day. Relying on my feet for transportation and with a 
cart rigged up to pull my amp and gear, I became very efficient at 
setting up and breaking down shows. I ended my day with a leisurely 
walk home along the sea wall. I loved the challenge of honing my skills 
and tweaking my show while the non-captive, fluid audiences renewed 
themselves hourly. Connecting with people from all over the globe was 
a treat and if I was lucky they would take my CD home. By summer's 
end I had learned so much but the most important lesson was how to 
ask for tips! The best money making act knew how to draw a crowd 
and cleverly involve the audience into their show. Many of the talented 
buskers I worked with travelled here every year from Australia, Europe 
or Montreal. I loved being a part of this unique community and was 
honoured to call myself a Granville Island Busker!